IT Governance Assignment: IT-Enabled Value & Its Application In Toyota Motors
Question
Task:
Select a case of Toyota motors and prepare a report on IT governance assignment addressing the following questions:
What is the application of the concept of IT-enabled value concerning Toyota Motors? Explain.
Differentiate between enterprise governance and enterprise management of IT.
Answer
Introduction
As discussed in this IT governance assignment, governance of Information Technology is highly important within an organisation due to their utilization of technical tools and resources to ensure effective operations at the highest level and deliver significantly high brand success and sustainability. This study focuses on analysing the concept of IT-enabled value and its application in Toyota motors. Additionally, the study also presents details regarding the need and differences in IT governance and management.
Answer 1
Application of the concept of IT-enabled value concerning Toyota Motors
The concept of IT-enabled value is applied with the help of IT professionals by eradicating the risk of structured approach absence. Toyota motors believe in the continuous development phenomena, where the organization can establish itself as one of the reliable and renowned organizations in terms of the car industry. Getting approved by all the hierarchical seniors and adaptability of employees is mandatory to showcase the strategic goals with ease and trust. On the other hand, as stated by Chou and Naimi (2017), controlling the IT investment is extremely crucial for ensuring that the portfolios get categorized by mandatory, sustaining and discretionary investments. Acceptance of the IT-enabled value adds better sales revenue along with a better opportunity for further growth in the global market. Seeking help from the IT-enabled value Toyota can add up more technological advancement in the delivered products whether it is auto-starting, connected care services or self-driving functions. The in-vehicle features also get developed by introducing the IT-enabled value.
The navigation applications, auto-driving by AI, new music features are the main changes, which are incorporated (Tajitsu, 2017). The return on assets, revenue per employee, sales from new products in the emerging market gets higher as the chances of acceptance of new and innovative care are upfront. The cost analysis is also increasing in exponential growth as it becomes easier than before. The balance ratio between the expenditure and income gets a positive hint due to the fact of higher acceptance among the customers. Furthermore, Toyota is aimed for a new growth called "Mobility Service Platformer" in late 2016 by which it can transform its peripheral services for the society (Toyota, 2016). Kaizen improvement is shown for a rapid increase in the overall productivity and quality of the offered products and its peripheral services. A new value is created for the production of cars and develops a new mobility business venture for the well-being of society.
Relation to the business value diagram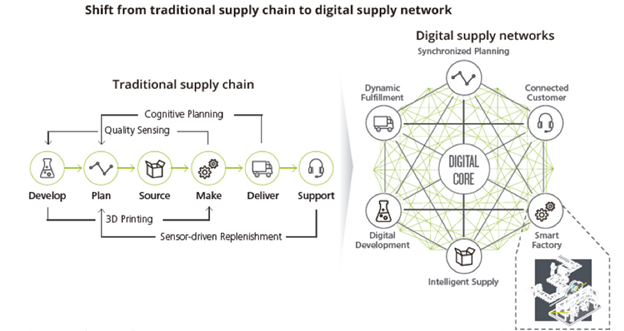 Figure 1: Transformation of a supply chain from analog to digital
(Source: Microsoft, 2020)
The concept of IT-enabled value is directly proportional to the business value diagram. As per the diagram, it has been shown that the dilution of the IT impacts getting higher with the help of IT-enabled value. The figure shows that the new IT-enabled supply and value chain can help every individual functional group of Toyota works simultaneously side-by-side without hampering each other's daily operation. IT-enabled digitized networking systems to help every business operations and functional groups to work as innovative as they want. Though it resulted in more resource allocation, eventually through bringing change several times to the IT-based operating model, Toyota has achieved great efficiency in its supply and value chain operation (Jamil et al. 2016). The time or business impacts get improved until the delivered business values get developed.
The firm-wide IT infrastructure or the availability of infrastructure along with cost per transaction and cost per workstation is getting higher with the increase in the dilution of the IT impacts. The sudden acceleration in the productivity and quality of the offered products is deliberately forced for positive change in the Business unit IT applications including time and cost application. Sales from new products, new product launches and quality of the product or service come under this paradigm. Finally, the revenue per employee, return on assets and revenue growth gets developed as the IT-enabled value is added in the existing as well as new products successfully (Microsoft, 2018). However, IT performance reporting is mandatory for ensuring that the customers are getting benefited by the new products and services.
Ease or difficulty in demonstrating
Similar to other leading global organizations, Toyota Motors also evolved their daily business operation by changing their system from "order-taker" to "demand management" through the extensive use of IT in their internally oriented system (Madadipouya, 2015). Toyota's "next-generation demand management" is a new information system that helps them to focus more on the overall corporate needs from project-by-project demands. Through the use of this new IT application, Toyota has managed to partner with its business units and achieved an overall organizational demand which reduced redundancy and developed a system towards their strategic direction. According to Panichayakorn (2019), the use of IT in Toyota is a great success and it offered every individual business unit to focus more on their innovative side and IT kept the overall process under complete management. IT allowed these individual functional groups to be as creative as they wanted to be. However, there is a problem faced by the company as it resulted in the formation of different new duplicate infrastructures which ultimately increases the maintenance cost. To limit these maintenances, they constantly changed and improved their operating model to achieve better performance as a whole.
Answer 2
Differentiate between enterprise governance and enterprise management of IT
Enterprise governance of IT
Enterprise governance of IT is primarily concerned with facilitating strategic decision making. It ensures proper alignment of IT-based factors with project governance objectives of the organisation. It is much broad and concentrates on transforming IT for meeting the present and future demands of the business and its customers (Pestoff and Hulgård, 2016). It has a wider time dimension and looks further than the organization's current time frame. Enterprise governance faces double demands due to its efficient contribution to various business operations and performance as well as the positioning and transformation of IT implementations. These IT implementations can further help to achieve major organizational goals in the future. Governance of IT operations is conducted in a large number of organisations. However, this process is not implemented within Toyota Motors due to its particular focus on management processes instead of governance.
Business IT governance is tied with business models and a slight change in IT processes and implementations can influence the enterprise's overall value equation (Pestoff and Hulgård, 2016). Some of the most efficient models include the Cooperative Governance Model and the Management team model. The cooperative governance model includes consensual decisions made by discussing various strategic ideas with other people within the brand. On the other hand, the management team model involves governance for non-profit organizations and helps to administer organisational duties.
Enterprise Management of IT
Enterprise management includes management of the IT Project in addition to other changes done by the organization in terms of growth and test environment to live production environment. Enterprise management plays a serious function in taking care of modifications in the IT section. It has a lot of benefits in the direction of the management of the IT segment. It performs as an end-to-end release and project administration, recognizes the task risks and many more.
Reduction of Costs: It helps to maximize results using minimum input by proper planning. Even it helps to plan a project in a simplistic manner which leads to reduce overall cost.
Establishment of Sound Organization: To establish sound organizational structure enterprise management plays a crucial role (Lin, 2019). IT community helps to track the entire solution of any organization.
Authorization of Equilibrium: It facilitates the organization to endure in changing environment. It keeps in touch with changing external issues and technological advancement (Goncharova, 2019). It is responsible for the growth of the organization in every segment.
Essentials for Prosperity of Society: Efficacy of management leads to better production, a feasible project which helps to increase the welfare of society. Organization comes with new products, researches and revolutionary technology for society.
Ease or difficulty in demonstrating IT-Enabled Value
Enterprise management of any organization plays different roles in numerous ways to develop and strengthen its value. The emergence of technology in an effective manner helps Toyota company to boost up market share worldwide in feasible aspect. Like, Toyota has started making cars which can be driven with the upper body mainly for physically disabled people. 'Kanban' system has been introduced by them to make a production in comprise way mainly to avoid unnecessary production. It is a system which helps to communicate with each other while in the production section. The company has invested $4 billion in robotics and artificial research institute to make safe vehicle. Along with that Toyota has launched a self-driving car company that can help them to develop smart automobile technology. In 2019, Japan announced the planning of moon landing in 2029 and Toyota vehicle is preparing for the lunar surface. Demonstrating this IT system to a consumer can be more hectic while this kind of technology is not available to all. Moreover, technology is the most important thing in today's world to survive in the market. The company needs to pay more attention to make this kind of new technology simple and friendly.
Conclusion
Based on the above study, it can be stated that the Toyota Motors brand is highly efficient in the use of business IT management processes. It uses a managing approach rather than governance and is highly efficient in the implementation of IT-based systems for improved value. High value for the brand contributes to increased brand image and customer satisfaction along with loyalty. Additionally, it can lead to significant improvements in technological transformations and contribute to an increase in new opportunities for development and improvement.
Reference List
Chou, C.Y. and Naimi, L., 2017. An Exploratory Study on the Distribution for the Results of IT-Enabled Value Co-Creation.
Goncharova, E., Shakhovskaya, L., Starovoytov, M. and Starovoytova, Y., 2019, June. Financial planning and its tasks in modern models of enterprise management. In Volgograd State University International Scientific Conference" Competitive, Sustainable and Safe Development of the Regional Economy"(CSSDRE 2019). Atlantis Press.
Jamil, A, CISM and CGEIT. 2016. Ensuring Value From IT-enabled Investments. Available at: https://www.isaca.org/resources/news-and-trends/newsletters/cobit-focus/2016/ensuring-value-from-it-enabled-investments [Accessed on 24.3.2020]
Lin, J., 2019. Research on the Innovation of Enterprise Management Model under the Background of Industry 4.0.
Madadipouya, K., 2015. A review on the strategic use of IT applications in achieving and sustaining competitive advantage. arXiv preprint arXiv:1507.01233.
Microsoft, 2018. Toyota Industries Corporation improves service operations to maximize uptime for their customers. IT governance assignment Available at: https://customers.microsoft.com/en-gb/story/toyota-industries-corporation [Accessed on 24.3.2020]
Panichayakorn, T., 2019, November. THE APPLICATION OF TOYOTA PRODUCTION SYSTEM IN THE AUTOMOTIVE INDUSTRY IN THAILAND. In INTERNATIONAL ACADEMIC MULTIDISCIPLINARY RESEARCH CONFERENCE IN JAPAN 2019 (pp. 289-299).
Pestoff, V. and Hulgård, L., 2016. Participatory governance in social enterprise. VOLUNTAS: International Journal of Voluntary and Nonprofit Organizations, 27(4), pp.1742-1759.
Tajitsu, N. 2017. Toyota uses open-source software in new approach to in-car tech. Available at https://www.reuters.com/article/us-toyota-tech/toyota-uses-open-source-software-in-new-approach-to-in-car-tech-idUSKBN18R1CW [Accessed on 24.03.2020]
Toyota, 2016. Aiming for New Growth as a "Mobility Service Platformer". Available at: https://global.toyota/en/company/messages-from-executives/details/tomoyama.html?_ga=2.1352049.1702619781.1585045418-597964815.1585045418 [Accessed on 24.03.2020]