Network Security Assignment: Healthcare Network Architecture
Question
Assignment Description: The purpose of this assignment is to develop skills to independently think of innovation. In this assignment students will first learn how to develop knowledge based on current state of the art of an emerging knowledge domain. Then they will learn how to identify plausible security issues in this emerging network-based applications, and finally learn the skill of adding knowledge to existing domain by theoretically developing the corresponding protection mechanism for a particular issue.
The use of network technologies is rapidly growing in healthcare sector. Now, healthcare is considered as one of the emerging application of network-based applications. Different network scenarios using wireless, wired, and mobile communications can provide efficient solutions to access electronic medical records (EMRs), medical management systems, imaging, biomedical information, material management, patient accounting, admitting information, and online claims submissions. Today, healthcare systems can combine these tools into one network-based infrastructure to more effectively communicate and collaborate, reduce errors, and improve patient care and efficiency. As healthcare providers adopt new technologies, they also face new security threats. Hackers, malicious software (malware), disgruntled employees, and human error present real dangers to healthcare networks [1]. Security of healthcare networks is a prime concern in today's World.
This assignment includes four parts
Literature review on Healthcare Networks.
The literature review should be supported by at least three (3) academic (Journal/Conference) papers chosen from the current state of the art.
Your discussion should include
Healthcare network architecture (consider networking devices such as routers, switches, firewalls, servers etc.)
Recent developments in healthcare networks
The importance of security in healthcare networks
Analyse critically, three current or possible future potential security issues in Healthcare Networks.
In this section you will analyse critically, three security issues in Healthcare Networks. These issues should be taken from the current state of the art literature. This section must be supported by at least three (3) references.
Propose a possible solution for one of the threats identified in section-2.
In this part you need to choose one of the issues identified in the previous section and propose a possible solution to the particular security issue.
Answer
Introduction
In this network security assignment it is discussed that the growth of technology across the world has not gone unnoticed by the healthcare industry. In recent times, healthcare centres have tend to implement technologies in the process of ensuring treatment and well-being of patients. It is noted that information technology has also played an important role in this regards. Further, the use of centralized databases, computing communications and several other technologies has significantly developed healthcare operations. On the other hand, the use of the technologies has also developed interaction between care providers and patients. In addition to offering individuals and organizations with several advantages, there exists a number of issues that has negative impacts [1].
Discussion
1. Literature Review on Healthcare Networks
As the world is getting more advanced, medical industries are growing rapidly along with their interest to undertake several advanced technologies. The growth of technologies and their implementation is now an integral part of healthcare operations. It has brought many benefits and changes in the medical organisations like improving in the time management, better tools, faster services, making the task easier within a short period, reduced cost of operations as well as it has enhanced financial outcomes [2]. Further, the presence of new dat as recording and saving systems has prevented any loss of data. The literature review takes into consideration various technologies that are used in healthcare. Further, a discussion about technological architecture and developments in healthcare technology has also been included in below section of network security assignment.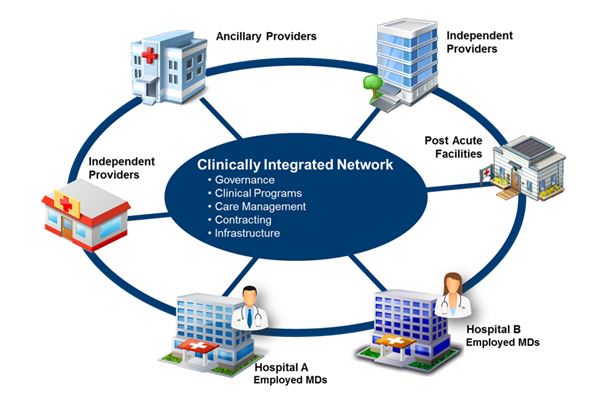 i. Network architecture in Healthcare: Health care in network architecture digitally helps to connect patients and improve health care. There are different kinds of healthcare architecture found. Various types of healthcare architecture are given in the context below:
Switches: Switch network is one of the multiport bridge networks that utilize the hardware address, in order to forward and process the data in the link layer of data, which is the OSI model. The most well known form of Switches network is the switch of Ethernet. Switches are use broadly in the network in order to provide the connections between the edge and the switch. Switches are made with many layers thatare coded with architectural systems, to perform various tasks specifically to react in data transferring and data processing[3].
Router: Router enables to connect with multiple networks, as well as it forwards the packets data all across the networking lines. Routers are destinedfor either it is for its own or for the other network. It is the architectural key model. It can also access IP address automatically and send all the packets to its respective place. Therefore,router helps in developing the communication from one computer to another in sending and receiving files and data's[4].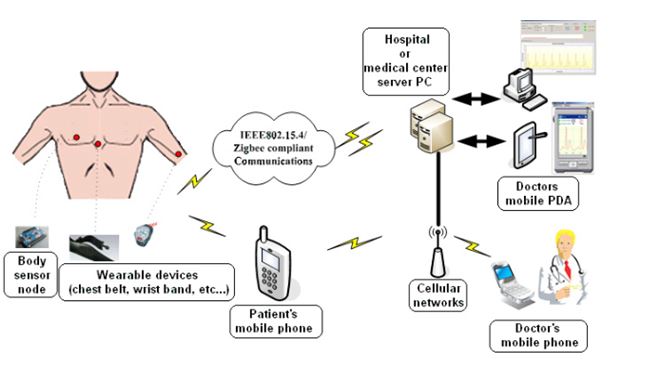 Firewalls: one of the challenges that the healthcare services facesis that how they can protect their sensitive and important data is while finding the best tools for their job. The very common tool that they use is firewall. Many of the healthcare services providers do not have the idea how to use the right firewalls for their services[5]. Choosing the right firewall is important for the healthcare service provider. There are few firewall architecture, that is broadly used by healthcare provider:
Packet- filtering firewalls
Stateful inspection firewalls
Proxy firewalls
Proxy firewalls
Server: server is a computer that equipped with specific hardware or programs. Server enables to offer various services to different computer clients to its networking lines. There are different many types and use of servers like transportation; it helps transport anything from one place to another[6].
Types of servers: There are various types of servers available in computer to provide services. Checkout various types of servers given below:
File server
Print server
Web server
Application server
ii. Current developments in the healthcare network: Many developments took place in the field of development in healthcare networks. Few developments are discussed below:
The medical grade network: It helps the healthcare organisations worldwide. It is turning the information technology that improves cost and quality[2]. Use of high technology improves to create an integrated system to connect patients with care and support organisations. It also minimizes and controls the cost of administrative waste. Insurance companies,employers, taxpayers and governments are paying for health care. The medical grade network is an end-to-end solution that supports varieties of medical applications[1]. The MGN is built based on three layers, the network infrastructure layer that provides a unite network which enables the secure and reliable connectivity to the network enable devices. With the help of the interactive services layer it will enable the mobility, security and the utilization of resources more efficiently that could be used in the following healthcare environment[7].
Accessing the encrypted data: Encryption data translate data in different code or form. So that people will access to password or a secret key. Encrypted data also known as cipher text, whereas it is also called plaintext. At present,encryption is the most effective and popular data security methods that are used different organization. Two main types of data encryptions contain asymmetric and symmetric encryption[8].
The main purpose of encrypted data is to defend the digital data, which is stored on computer confidentially and it transmit with the help of internet network. Modern encrypted algorithms was actually been replace by the encryption standard of the outdated data. It also plays a crucial role in security of the IT communications and systems[9].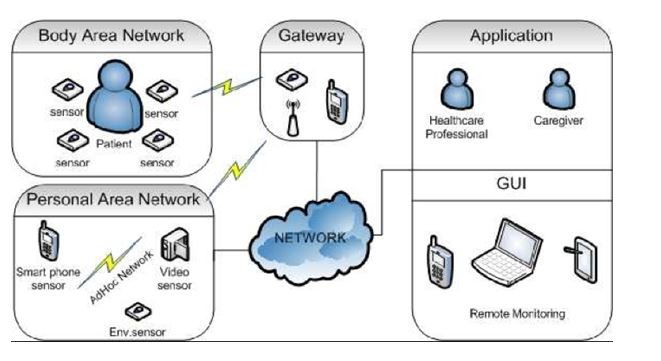 Host Intrusion Protection System: High level of data security has been required in health care industry. Host intrusion protection systems are used for protecting endpoint devices. Once malicious activities is detected , the HIPS tools takes a numerous actions includes sending alarm to the computer user , logging the malicious activities for resetting the connection , future investigation , dropping malicious packets and blocking the traffic from the IP address. Many host intrusion systems allows users to send the logs of malicious activities and the suspicious code of fragments to the vendor for analysing and for possible identification[10].
Most of the host intrusion prevention system also known as attack pattern, which also called signatures for identifying the malicious activity. Signature based detection protect host devices against known attacks[10].
iii. Healthcare networks security and its importance: Healthcare networks results positively in the effective management variously in certain outcomes.
Various importance of healthcare networks are discussed below:
The security of the health care is very important and most of the cyber attacks are made on the health care systems to retrieve the personal information of the patients. The personal information like retina scan, and many other scanned information are kept on the store of database of the health department. The most insecurity of the hospital is that if the equipment of the hospital get attacked by the viruses and the data being hacked on the attack[12].
The most harmful and the devastating challenge will health care department face if the hackers harm the software, which could make more cause to the patients. The cyber attacks make threat to the future technology of the healthcare department as few machineries area always connected with internet and if those machines are trapped, the whole system of the hospital will be blocked.
The facilities provided to the homes of the patient will be stopped if the main security services are blocked. As the high level of computer based technology are used in the hospitals and in nursing homes it is easy for the hackers to get in the hospital server and the machines are always connected with random Wi-Fi facilities[11].
The MRI scanners, refrigerators, the other scanning devices, and other emergency equipments are the threat of cyber attack. The protection of the security system must be of very high level else for the hackers is very easy to deal with this kind of lower securities. The impact of cyber security is potentially very harmful[11].
The most lucrative thing for the hackers is the information of the patients, their bank details, and the personal information to ask them for the ransom after the attack. The personal identifiable information of the patients are very secured objects, it can be used in the security purposes, such information are very important and should not be found by the hackers[12].
To protect it from the hackers hospital management or the health care department need to look for more secured and enhanced data operating system or to keep the data safe from the outside of the database. Most of the attacks of the cyber security are done from the ads and the threats accepted by the customers/patients.
If the hackers could get chance of getting any possibility to the server that is enough to make more threats inside of the server and to hack the whole system[12].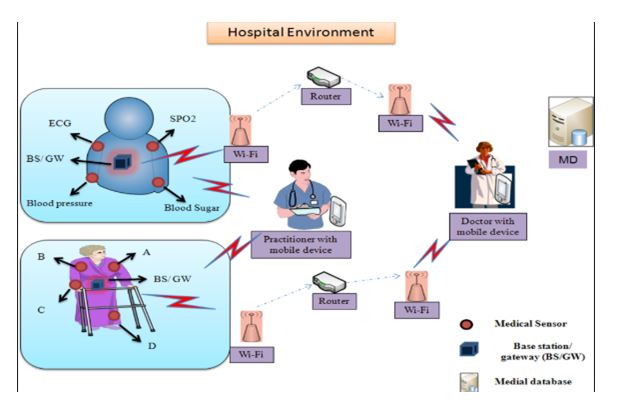 2. Critical analyse of three potential security issues in Healthcare networks
Various security issues can arise while managing healthcare networks. The key security issues and its analysis has been discussed below:
Insider threat: Insider threat is one of the major threats in the hospital, which along with affecting upon the resources of the hospitals has affected their patients and staffs. This insider threat can be harmful and accidental for the hospital. During the cyber security survey conducted in 2017, it was found that the insider threat plays a crucial role in enhancing trouble in systems (almost 75%).
Uses of legacy apps: Use of legacy should be reduced, as acts as a helping hand for hackers to get information and data resources. The application often leave gapping holes which helps hackers to access data, thereby leading to breach of security. It is noted that hospitals or healthcare providers are still using the older versions of the operating systems like windows XP and windows 7. The provider of these operating systems are not upgrading security patches, thus these operating system can be hacked. Further, viruses like wannacry use these kinds of applications for getting all the details regarding the users [10].
Authentication issues: Authentication normally is the process of validating a computer. It has the ability to connect to the interface of a computer. It is very hard to maintain and balance in terms of usability and security. Various issues can occur such as phishing and spamming that can make the systems risky. To prevent such issues password can be introduced in the systems. Two factor authentication is a strong mechanism that uses both a onetime password (send to digital device dynamically) and a basic password (default password) for increasing security [9].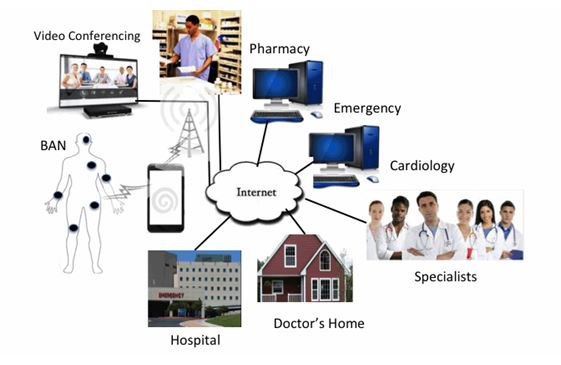 3. Solution for heath care network issue:
It is noted that use of new application can reduce the risk of data hacking from the computers. Windows 10 and Linux can be used for more protection of the health care facilities. Automated migration processes of the data can be a greatest solution to the health care management. Enhanced data security with more efficient processes will help in the process of safety of the health care department [9]. Further, in order to avoid authentication issues, 2 factor authentication systems are needed to be installed. On the other hand, BioSig-ID and SMS security can also help to solve these type of issues in healthcare. Additionally, anti-fraud tools can be used to prevent hacking and prevent leakage of data by third parties.
Conclusion:
This network security assignment is based on the Healthcare networks and services. The importance and developments helping the healthcare services are also mentioned above. Many negative and positive effects on the topic of health care have also been discussed in this network security assignment, along with its different computer services that have been used. Healthcare services are very important for every individual in our country. The network security assignment has thoroughly discussed about the importance and necessity of Healthcare network everywhere. Network security assignments are being prepared by our IT Management assignment help experts from top universities which let us to provide you a reliable best assignment help service.
References
[1] Catarinucci L, De Donno D, Mainetti L, Palano L, Patrono L, Stefanizzi ML, Tarricone L. An IoT-aware architecture for smart healthcare systems. IEEE Internet of Things Journal. 2015 Dec;2(6):515-26.
[2] Chen M, Ma Y, Li Y, Wu D, Zhang Y, Youn CH. Wearable 2.0: Enabling human-cloud integration in next generation healthcare systems. IEEE Communications Magazine. 2017 Jan;55(1):54-61.
[3] Chen M, Qian Y, Hao Y, Li Y, Song J. Data-driven computing and caching in 5G networks: Architecture and delay analysis. IEEE Wireless Communications. 2018 Feb;25(1):70-5.
[4] Hu L, Qiu M, Song J, Hossain MS, Ghoneim A. Software defined healthcare networks. IEEE Wireless Communications. 2015 Dec;22(6):67-75.
[5] Islam SR, Kwak D, Kabir MH, Hossain M, Kwak KS. The internet of things for health care: a comprehensive survey. IEEE Access. 2015;3:678-708.
[6] Manfredi S. Congestion control for differentiated healthcare service delivery in emerging heterogeneous wireless body area networks. IEEE Wireless Communications. 2014 Apr;21(2):81-90.
[7] Muhammad G, Rahman SM, Alelaiwi A, Alamri A. Smart health solution integrating IoT and cloud: a case study of voice pathology monitoring. IEEE Communications Magazine. 2017 Jan;55(1):69-73.
[8] Shen J, Wang C, Lai CF, Wang A, Chao HC. Direction density-based secure routing protocol for healthcare data in incompletely predictable networks. IEEE Access. 2016;4:9163-73.
[9] Zhang K, Yang K, Liang X, Su Z, Shen X, Luo HH. Security and privacy for mobile healthcare networks: from a quality of protection perspective. IEEE Wireless Communications. 2015 Aug;22(4):104-12.
[10] Zhang P, Zhang X, Sun X, Liu JK, Yu J, Jiang ZL. Anonymous Anti-Sybil Attack Protocol for Mobile Healthcare Networks Analytics. InTrustcom/BigDataSE/ICESS, 2017 IEEE 2017 Aug 1 (pp. 668-674). IEEE.
[11] Zhang Y, Qiu M, Tsai CW, Hassan MM, Alamri A. Health-CPS: Healthcare cyber-physical system assisted by cloud and big data. IEEE Systems Journal. 2017 Mar;11(1):88-95.
[12] Zhou J, Lin X, Dong X, Cao Z. PSMPA: Patient self-controllable and multi-level privacy-preserving cooperative authentication in distributed m-healthcare cloud computing system. IEEE Transactions on Parallel & Distributed Systems. 2015 Jun 1(1).