Operations Management Assignment: Case Analysis of Markeaton Park Project
Question
Task
Case Study: The Markeaton Park Project
Markeaton Park (including the Mundy Play Centre) is Derby's most visited and heavily used park and one of the most visited destinations in the East Midlands area, with a wide range of recreational and sporting facilities and attractions. In recent years, the Craft Village has gained a major uplift and all the units are occupied by different businesses. The Community Room is used as a base for a range of events and can be hired. Bookings have already been taken for two art exhibitions this year along with workshops and other public and private training and conferences. Park's management has applied for Brown Signage at the road for the Craft Village, so more people driving nearby will know and could potentially visit.
The park retains a good reputation as a place to visit and attracts around 1.6 million visits annually while hosting over 100 different events throughout a year. Some of the key events are:
One of the biggest Park-Run in all of the East-Midlands. It attracts over 600 participants weekly.
An Outdoor Theatre & Cinema programme offers something for everyone and the 4 nights of cinema was a sell-out in 2019 after adding an extra night.
Formerly known as "The Rose Garden" this area has been adopted by an organisation known as 'Making Spaces'. They provide health and social care services. This is now called "Capability Garden", created for people living with dementia, their families and carers.
Operational Aspects/Challenges:
Park's operations management span from range of different processes/functions such as maintenance of grounds and facilities, ensuring the seasonality factor on available activities for people, managing the layout of the park, smooth flow, ensuring for the craft village space to be occupied in effective way, engaging with community, capacity management, events planning and management, etc.
Some of the key current and upcoming challenges for the park are, but are not limited to:
A-38 will be undergoing major improvements starting 2021 and is expected to complete in 4 years. Since the park has one of the major access points through A38, the management is concerned as to,

How to keep the Park busy and accessible?
How to ensure that Visitor's number would not decline but rather increase?
What will be the impact of this on the businesses in Craft Village and how to avoid/manage this impact?

Park has limited budget overall and thus limited budget for Marketing. What possible ways the management can increase the Park's visibility and engage with people of all ages and abilities?
Park's management would also like to expand their knowledge as to how people access the park (bike, cycle, walk, car) and what they think about the park, such as its accessibility, facilities, and how they can be improved.
Park wants to attract people of all ages and abilities, for this purpose are current facilities, and attractions good enough or do they need improvement? If so what and to what outcome?
The slow decline in horticulture standards and features such as loss of herbaceous borders and bedding, indicating a reduced level of care by the Council.
Some of the continued challenges for Markeaton Park are,
To increase visitor numbers throughout the year.
To increase the income that can be used to reinvest in the park in improved maintenance and management and provision of a higher quality of facilities.
To protect and improve the parks historic and natural fabric.
Read the above case study and address the below sections:
As an initial step, you are required to investigate and discuss various operational aspects of Markeaton Park. To do this, you will:

Identify and discuss what you may consider the most important:

Inputs (including the transforming and transformed resources),
Transformational operation/process,
Outputs (pure products, a mixture of products and services, pure services) of the park's operations

Conduct the value chain analysis and define the importance/impact of different stakeholders.
Identify and briefly discuss the effectiveness of the capacity planning strategy that you consider Managers of the Markeaton Park may be following
Identify and briefly discuss the effectiveness of the Markeaton Park layout

You are required to make recommendations to improve the operations of Mundy Play Centre, Craft Village, and Markeaton Park. These recommendations could include, but are not limited to, improvements and addition of facilities, activities, and attractions. Your proposals must generate positive income for the Park. (Do not spend time writing about the things that are being done. Explore new attraction and approaches, which are not covered in their existing plans.) Your recommendations should also address the challenges mentioned in the case study description.
Answer
Executive Summary
This operations management assignment is aimed at surveying The Markeaton Park Project and identifying some necessary aspects that needs to be introduced in the existing park. The important aspects are considered as challenges that should be addressed so that necessary solutions can be obtained. The transformation of the park should be researched with studying some key aspects such as easier transportation, more visitor involvement, more facilities development and increasing park's profitability. The report performs value chain analysis and emphasized on the stakeholder importance to show major aspects where improvements are required. The value chain analysis is portrayed with its relevant activities that are analyzed to show processes for execution. Moreover, the stakeholder analysis is performed to pinpoint their availability in the project and their importance with the project development. Effectiveness of park layout is described as per recent construction of A-38 and its impacts. Some suitable recommendations are provided so that authority can take suitable actions to deal with identified challenges. The challenges are paired with suitable activities that should be used to handle the transformation of the park. The survey outcomes are incorporate in the report to show its outcomes with visualization to support the argument. The chart and graphs are supported with suitable findings so that the findings can contribute to the discussion. Discussion of the findings show major respondents' opinions in which the respondents shown their perspective of introducing new facilities to the park. The recommendations in the report is provided to give viewpoint of suitable competitive advantages of the park as well.
Part 1
Important Aspects to be Considered
The Markeaton Park Project needs some essential modifications and strategic placement of some recreational facilities to improve peoples' visit and frequency of visit as well. Here some aspects that should be considered based on detailed research on the dataset and case study of the Markeaton Park Project provided.
Identification of Important Inputs about transformed resource
Construction of A-38; in which the park should organize newsletter and magazine publication so that the event can be easily advertised. The advertisement should be performed as a campaign where people should be involved to invite others. The business of Craft village would be disrupted for organizing this event; however, the advert can keep people visiting the park to ensure Craft village activities. As the budget is limited, the park should organize a fundraiser program to support the big event. The management should use the fundraiser money to cash flow the event and the 'Craft Village' businesses. Based on 2021 survey data, out of total participants, 46% of the people uses car transport and 32% of them use walking as mode of accessibility through the park.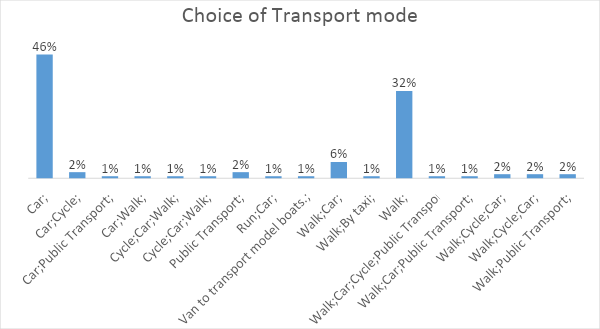 Figure 1: Transport Choice for People
(Source: Created by author)
Therefore, a pool of cars should be assigned where people can use the service as per their convenience. To attract different aged persons, the park should organize different programs such as magic shows for kids, fashion shows for middle-aged persons or couples and organize historic or political events to gather aged people.
Transformational Operation to be introduced
Based on inputs for transformational events and campaigns, the park management should organize following events as per resolving some of the identified challenges.
Fundraiser campaign: The fundraiser campaign should be organized at least twice a year for the park's improvements and certain modifications. Park's management should inaugurate the fundraiser event and a spokesperson should be hired to motivate the audience. The fund should be deposited and this capital should be invested in some unique shows and programs. The earning from programs should be used for future endeavours and facilities addition in the park.
Historic events: In days with historic significance, small events should be organized and aged people should be invited for talk sessions. The talk sessions should attract more old age and experienced people to provide their opinions about historic values and programs.
Handicraft fair: Handicraft fair should be organized to attract local business owners and small farms to sell their products, this event should attract people from different age groups, and social response will be improved.
Science fair and magic shows: Science fair would be based on kids' talent and talent acquisition programs should have some awards to motivate children learning. Magic shows can improve kid's attraction to enjoy certain feats and performance.
Fashion show: The fashion show can attract local clothing and apparel farms to sell their product and display it towards a different aged crowd. Huge grasp of opportunities will arise and both society and local business owners can benefit from this event.
Outputs regarding Park's Operations
Above-mentioned event ideas should be kept as primary targets for the park to achieve; these events would benefit social values, creativity values and educational values of the society within a higher level. Competitions can be organized to nurture young talents and award them for more motivation. Furthermore, in every occasion, there should be car service availability within 20km radius of the park. Therefore, that people from 20km radius can avail it and get convenience for access.
Value Chain Analysis on Park's Operations
Related to Markeaton Park, major activities are identified as inbound and outbound logistics, operations, marketing, sales and services. The inbound logistics help with management to receive different products, distribute them through different internal operations. Following figure (figure 2) shows the value chain analysis on park's operations. The park authority suffers from limited funding however; they require allocation of suitable resources and certain inputs to process the transformation. The outbound logistics in case of Markeaton Park depends on the visitors and in this case, the lack of budget limited the marketing function of park's business. Hence, Markeaton Park authority should conduct the primary activity as providing suitable service. As an impact of this value chain analysis, the park authority can identify the activities that need to be analyzed, the management can take proper decisions based on value analysis and evaluate the feasibility and plan accordingly.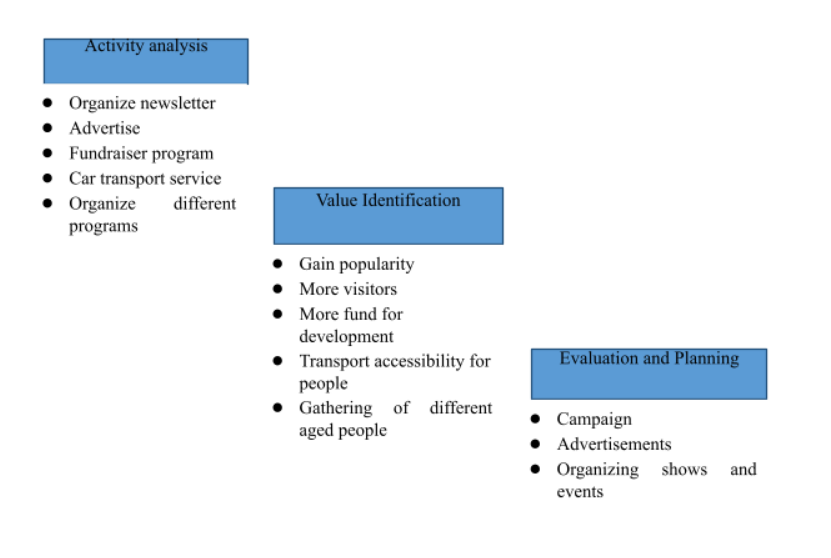 Figure 2: Value Chain Analysis on operations planned
(Source: Created by author)
Based on current service of Marketon Park; there are 29 people in the survey who have provided 5-star rating for existing services in Marketon Park, 81 people provided 4-star rating, 24 people provided 3-star rating and rest provided 2-star rating.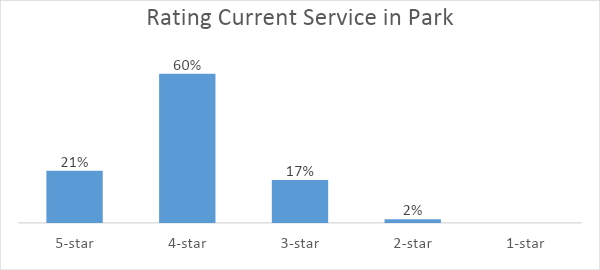 Figure 3: Current service rating given to park facilities
(Source: Created by author)
Hence, almost 60% of the respondents gave 4-star rating and asked for some modifications in the service. The park authority already have a competitive advantage of visitors' presence and their positive rating towards park services. The existing services in the park are already gaining a higher level of audience gathering and however, the park authority requires motivating the people to visit the park more. Therefore, the authority has conducted a questionnaire survey to collect public opinions on the park's existing services. The data points show that people recommended providing better cleanliness in the park environment by putting some litter bins. The cleanliness of the park should achieve more improvements as 44% of the respondents provided a 4-star rating.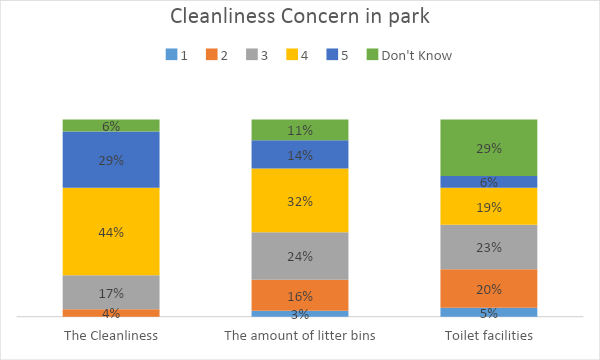 Figure 4: Cleanliness concern in park
(Source: Created by author)
The availability of trashcans or litterbins should be another concern where, 32% and 24% respondents provided 4-star and 3-star rating respectively. Moreover, the toilet facility received almost mixed review of equal percentage of all major reviews with least (6%) 5-star reviews. However, existing services in park needs some improvements in park safety. The components of value chain analysis are mostly based on challenges existing in Markeaton Park. Most importantly, the development of local businesses and participation of local suppliers are part of the value chain that are not directly related with park's challenge. However, these local businesses can put significant impact on The Markeaton Park Project ideas and these businesses can gain benefits as well as can reap major advantages for the park as well.
Importance of Stakeholders
The park project modification and addition of new facilities would require different stakeholders and several internal or external stakeholder recruitment. The following table shows stakeholder allocation for different projects;
| | | | |
| --- | --- | --- | --- |
| Stakeholders | Internal / external | Responsibilities | Importance / Impacts  |
| Event organizers  | Internal  | Organizes events, plans the entire program including budget, activities, and risk analysis  | Required for every program agenda planning and timeline scheduling  |
| Campaign stuffs  | External  | Local people should be put as campaign stuffs  | The campaign support should increase local peoples' participation  |
| Advertising people  | External  | Advertising people would be contacted externally for achieving better coverage of park programs  | Advertisements would improve park's recognition and attracts more people to the events leading towards more sale of tickets |
| Transportation companies  | External  | Transportation companies would be contacted for providing transport service among 20km radius of the park  | The transportation service can provide trips to old age people or handicapped people so that this service can be helpful for all challenged people  |
| Local material suppliers  | External  | Materials such as decoration, development materials, and park facility upgrade materials should be gathered from local suppliers  | Local material suppliers can be contacted easily and materials can be used without wastage  |
| Local business and farms  | External  | Local business or farms should be contacted for attracting them to participate in shows to sell their products  | Local business growth can be achieved and their contribution towards event participation can bring more capital for park facility upgrade fund  |
Table 1: Stakeholders for Improvements and additional facilities
(Source: Created by author)
Effectiveness of Capacity Planning Strategy
Based on the value chain analysis of the park's challenges, the capacity planning is an important section of operations management. However, there is a lack of effectiveness in the current capacity planning. The capacity management is set as primary transformational activity in this project. To increase the park capacity, council have sent a successful bid to the Heritage Lottery under the Parks for People Program. The project cost is roughly around £3.4 million and the budget is spent on improving services and some aspects of the park. Capacity planning strategy of park authority was formulated to gain funding resources so that appropriate upgrade can be performed over maintenance of park's condition, infrastructure management and existing services. The sources of revenue generation was identified as car parking service, pay and use facilities, and Craft Village Center development in Mundy Play Center area.
Effectiveness of the Markeaton Park layout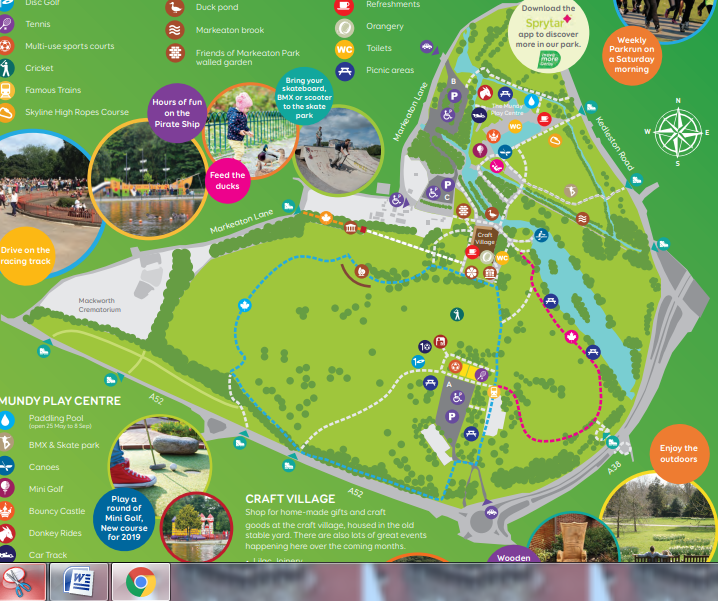 Figure 5: Park Layout
(Source: Inderby.org.uk. 2020)
As per the current layout of Markeaton Park, there are different sections of buildings and areas such as Mundy Play Center, Main Park, Craft Village and other establishments. The Mundy Play Center includes Paddling Pool, BMX, Car Track, Canoes, Bouncy Castle, Mini Golf, and Donkey Ride. The Play Center is certainly the largest area of the park and in the area of Derby. There are two pedestrian paths and car parking areas around Mundy Play Center and during the weekends, there are several visitors for fun activities. For disabled persons, there is a separate play center and parking area available and it is within accessibility of the main entrance. There is a suitable attraction of the park is Craft Village that is at the center of the park and central courtyard includes an Orangery. The Craft Village is within accessibility of the visitors and however, construction project of A-38 would be very likely to disrupt the park's entrance and can limit the access to Craft Village. The lakeside entry to the Craft Village is entirely blocked by the construction site. However, the park offers evening walks, dog strolling areas, cycling, walking, picnic, and fishing for the visitors. As per the operations planning, the layout of the park is effective with some external factors. However, these existing areas and places are scattered in the park in such a way that new facilities development and providing access to all of them to the visitors would be a big challenge.
Part 2
Recommendations
Following recommendations are provided for park's improvements on revenue generation and profitability.
Hiring a celebrity spokesperson to promote park's services and involving celebrity spokesperson is proven to attract people from different age group. As authority is trying to attract more people from different aged group; therefore, this strategy would be effective and useful. Attraction towards a celebrity is always a trend for Derby people; therefore, the park authority should consider this recommendation to achieve more revenue with involving celebrities in different events.
Focus on digital marketing over internet services where majority of the people are involved and cost of digital marketing gradually falling in recent years as well. Therefore, using social media platforms for digital marketing is highly recommended for Markeaton Park, Mundy Play Center and Craft Village. Having limited financial support, the park authority can achieve competitive edge of gaining popularity of the park within a shorter period within low cost.
Gathering more visitors for alternative activities and attractions; where the park should hire some employees who would guide the visitors for showing easy access in between areas of the park. The employees should inform the visitors a suitable path for viewing all the attractive places in the park in a sequential manner. These guides would be much helpful for controlling crowd and guiding them to avail suitable access in between different places in the park, leading to visitors' satisfaction and more visitors' eagerness to visit again.
Recruiting horticultural decoration staffs so that garden and flower standards can be improved, the authority can hire horticulture decoration staffs to set up shops selling fertilizers, seeds, saplings, and plants to the visitor. This approach has a potential to promote eco-friendly sustainability of the park and these open shops can generate more revenue as this approach can be a competitive advantage in the market.
References
Chen, S., Sleipness, O., Xu, Y., Park, K. and Christensen, K., 2020. A systematic review of alternative protocols for evaluating non-spatial dimensions of urban parks. Urban Forestry & Urban Greening, p.126718.
He, Z., Deng, M., Xie, Z., Wu, L., Chen, Z. and Pei, T., 2020. Discovering the joint influence of urban facilities on crime occurrence using spatial co-location pattern mining. Cities, 99, p.102612.
Ibrahim, A.N.H., Borhan, M.N. and Rahmat, R.A.O., 2020. Understanding users' intention to use park-and-ride facilities in Malaysia: The role of trust as a novel construct in the theory of planned behaviour. Sustainability, 12(6), p.2484.
Kim, J., Yoon, S., Yang, E. and Thapa, B., 2020. Valuing Recreational Beaches: A Spatial Hedonic Pricing Approach. Coastal Management, 48(2), pp.118-141.
Mesa, J.A., Ortega, F.A., Pozo, M.A. and Piedra-de-la-Cuadra, R., 2020. Assessing the effectiveness of park-and-ride facilities on multimodal networks in smart cities. Journal of the Operational Research Society, pp.1-11.
Moran, M.R., Rodríguez, D.A., Cotinez-O'Ryan, A. and Miranda, J.J., 2020. Park use, perceived park proximity, and neighborhood characteristics: Evidence from 11 cities in Latin America. Cities, 105, p.102817.
Ortega, J., Tóth, J., Péter, T. and Moslem, S., 2020. An Integrated Model of Park-And-Ride Facilities for Sustainable Urban Mobility. Sustainability, 12(11), p.4631.
Sandrio, L., Hidayatullah, S., Supriadi, B. and Patalo, R.G., 2020. Effect of tourism satisfaction as a mediator variable of images of destination and facilities to loyalties on millenial generation to visit Bromo Tengger Semeru. International Journal of Scientific and Technology Research, 9(5), pp.183-187.
Song, Z., Liu, T., Liu, Y., Jiang, X. and Lin, Q., 2020. Study on the optimization and sensitivity analysis of CCHP systems for industrial park facilities. International Journal of Electrical Power & Energy Systems, 120, p.105984.
Veitch, J., Flowers, E., Ball, K., Deforche, B. and Timperio, A., 2020. Designing parks for older adults: A qualitative study using walk-along interviews. Urban Forestry & Urban Greening, 54, p.126768.