Supply Chain Management Assignment Evaluating Case Of Vodafone
Question
Task:
Students are to produce a supply chain management assignment report which includes the following key components:
A brief background about the company
Conceptualisation of the company's supply chain of the chosen service provision
Identification of potential problems/issues of the supply chain (including both existing, and potential challenges due to emerging trends in the field); and
Recommendations to overcome the identified problems/challenges.
Answer
1. Introduction: A Brief Background about the Company
Vodafone Group plc., selected herein supply chain management assignment is one of the largest telecommunications firm in Europe and Africa, was the company chosen for the current group project. It is meant to "connect to a better future," and its know-how and extent provides it with a tremendous opportunity to promote meaningful social change (Kerr and Moloney, 2018). Vodafone is the biggest fixed and mobile network provider in Europe and the largest global IoT service provider. About 42 million individuals profit from mobile banking and financial services through its M-Pesa technology platform in Africa. In 21 nations and partners with cell networks in 48 more, the Organization operates mobile and fixed networks. Vodafone promotes diversity and inclusion with maternity and parental leave schemes, empowers women via connectivity, and improves women's access, girls and society in general to education and digital skills (Vodafone Group, 2021). It respects all people regardless of colour, ethnicity, handicap, age, sexual orientation, gender, religion or culture.
Vodafone also is taking substantial measures to reduce its effect on the planet with a 50% lower level of Greenhouse Gas Emissions by 2025, 100% renewable energy purchases by 2025 and 100 percent reuse, reselling or recycle of its redundant network infrastructure.
However, despite its attempts of running all its operations seamlessly, it is evident from the Quality letter assessment,that there are certain issues in Vodafone's supply chain,that are affectingthe experience of its customers. Therefore, this report will focus on the mentioned issues and also make some practical recommendations for addressing the same, so that the company can ensure a much better customer experience in the future.
2.Conceptualisation of the Company's Supply Chain of the Chosen Service Provision
Vodafone depends on complex global supply chains of many layers. For instance, your direct suppliers also have several of their own suppliers, who rely on many suppliers in turn, and this dependence continues through a variety of levels. In addition, at different points in the business, intermediaries including distributors and wholesalers participate (Pangarkar, N.D.).
It works for honesty through the management of various legal, social, ethical and environmental risks in its supply chains. Furthermore, Vodafone promotes those who work with it to take sustainable business practise either directly or indirectly.
Direct suppliers to the organisation, each with their own diverse supply chains, have an enormous amount of its own supplies. A concise example of a multi-stage supply chain is given in the following illustration.
Providers support the network infrastructure and associated services provided to the corporation and pay for much of the external acquisition expenses. This are bought from a limited number of large suppliers with the budget, capacity and scale needed by the company and the industry to create, design, install and manage network infrastructure equipment. For example, mobile devices such as telephones and tablets represent the next major share of the external procurement expenditure. As an important multinational, it also supplies its general business and logistical activities, including marketing, transport, technical advice and catering services, as a major purchaser of products and services.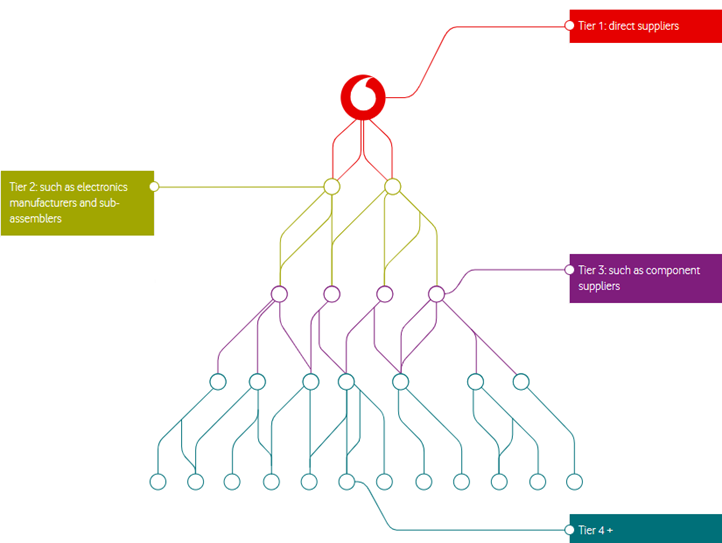 Fig.1: Conceptualization of Vodafone's Supply Chain
(Source:Vodafone Group, 2021)
Tier 1: Direct Suppliers
Vodafone purchases goods and services from about 10,800 vendors. The bulk of its expenses are spent on procurement of finished goods from big multinationals. It has exclusive contracts and works closely with Tier 1 vendors to produce creative new goods and services, involve their leadership and evaluate how they ensure their activities are complied with (Vodafone Group, 2021).
Tier 2: LikeElectronics Manufacturers and Sub-Assemblers
Vodafone purchases goods and services from nearly 10,800 vendors. Electronics makers and retailers have a plethora of suppliers. It collaborates with Tier 1 suppliers to obtain insight into their Tier 2 suppliers – especially when a supplier is deemed high risk.
Tier 3: LikeComponent Suppliers
Materials are obtained from a large variety of manufacturers to shape components of the finished goods.
Tier 4 +
These goods are constructed using components obtained from a diverse range of service and raw material sources located further down the supply chain.The supply base of the group is dynamic: the system of vendors and sub-suppliers is constantly evolving. It operates through industry efforts to increase supply chain accountability (Vodafone Group, 2021). Vodafone aims to ensure that where it has control on the design or manufacture of materials, such goods do not produce metals that contribute to violence in the Democratic Republic of Congo. It outlines its approach to this topic in greater depth in the regulatory Conflict Minerals Report and the Artisanal Cobalt Statement.
3. Identification of Potential Issues of the Supply Chain
The issues that have been mentioned in the Quality assessment letter are those of false commitment, lack of fulfilling orders on time and the lack of communication between logistics team and customer service department of Vodafone. A discussion about these issues and the possible causes behind them will be presented below.
1) False Commitment
This can be regarded as a case of theft of the supply chain involving misrepresentation of goods or services and may be broadly described as any circumstance in which a company or supplier intentionally misrepresents the goods or services sold or provided. One instance is quality assurance fraud when a contractor or supplier provides services or goods intentionally which fail to follow the contractual requirements of an entity and then mask or distort the evidence deliberately (Patterson, Goodwin and McGarry, 2018).
2) Lack of fulfilling orders on time
Supply chain disruptions impact vendors and consumers alike. In the event of such a delay, what occurs in the various parts of the supply chain is normally not taken into account. However, understanding when these scenarios exist will improve the prediction and discourage ineffective reactive decisions. Manufacturers are exposed to innumerable global externalities which may influence orders throughout the output segment (Wang, 2018). This malfunctions also start a domino effect in the supply chain that involves all of the following transport functions. In the segments prior to the final distribution any provider should be ready to respond proactively to reach the lead time.
Delays in warehousing can occur when management lacks complex warehouse techniques. Just as manufacturing and storage delays, shipping delays are often necessary. Apart from things uncontrolled, such as temperature, traffic and mechanics, chaos is occasionally caused by inadequate coordination, time management and decision-making.
3) Lack of communication
Logistics is a key component of many businesses' productivity. Without a strong distribution strategy as part of a supply chain, it becomes an awkward challenge to get products to customers – to get raw goods. Yet another key factor has to be addressed for the smooth functioning of logistics activities: customer support. To achieve success, it is vital to have excellent customer support and connectivity as part of logistics services. Without strong communication and an effective degree of customer support, any logistics chain does not function as well as it could, and would cause problems such as poor delivery of vital data, process reduction, and incremental lack of confidence.
Besides these, the potential issues that may affect the supply chain of Vodafone, due to emerging trends in the field are as follows:
Purchase Behaviour
One of the permanent problems facing the supply chain is to anticipate and adapt to buyer behaviour. This is one of the key factors that can influence each part of the chain — from inventory maintenance to shipping services demands (Robertson, 2021).

The population can be wild, patterns come and go; this can be a major challenge for our ability to remain productive, important and effective. It is doubtful that this will be solved soon.

Sustained Shortage of Truckers
The continued shortage of truckers could be very troublesome for the supply chain. Between 2017 and 2018, the trucker shortage rose by more than 10,000 to a total of 60,800. The same study forecasts that in the next decade this shortage would double to around 180,000. This poses a challenge for the Vodafone supply chain.
Rising Levels of Cybercrime
Since technology is introduced in the supply chain, cybercrime will remain one of the key challenges for all companies in the future (Supply Chain Game Changer™, 2021). Data are becoming an increasingly important resource to which companies have access. The risks related to data theft have become more evident as supply chains start to integrate data-reliant aspects.
4. Recommendations to Overcome the Identified Problems
Those strategies can prove to be very useful for Vodafone in tackling the issues listed in the previous sections of this study.
4.1 Root Cause Analysis (RCA)
Root cause analysis (RCA) is the method of finding the root causes of problems and find suitable solutions. RCA believes it is much more important to avoid and resolve root problems systematically than to handle ad hoc symptoms.
Root cause analysis can be done by compiling principles, strategies and methods, all of which can be used to determine the root causes of an occurrence or tendency (Kellogget al., 2017). In view of the superficial cause and effect, RCA may demonstrate where processes or systems have first and foremost failed or caused a problem. The objectives are as follows:
The first objective of the root cause analysis is to identify the root cause of an occurrence or issue.
The second aim is to completely understand how the fundamental problems in the root cause can be fixed, compensated or learned.
The third objective is to implement what is learned from this study to avoid potential problems consistently or to replicate successes (Wong,Amalathas and Zitkova, 2019).
Additionally, RCA could be used to change critical processes and systems in a manner that eliminates possible problems.
Handling individual symptoms can appear to be beneficial. Addressing a significant number of issues seems to be progressing. However, if the actual cause of an issue is not identified, the very same exact problem could recur repeatedly (Ershadi, Aiasib and Kazemi, 2018).
Effective root cause analysis is driven by a few fundamental concepts, some of which should be self-evident. Not only would these improve the consistency of the study, but they will also assist the analyst in earning the confidence and buy-in of stakeholders, customers, or patients.
The following principles apply:
Concentrating on resolving and resolving underlying causes instead of just symptoms.
Recognize the critical nature of treating symptoms for immediate relief.
Recognize that multiple root causes may exist, and often do.
Concentrating on "HOW" and "WHY" anything occurred, rather than WHO was responsible.
Being methodical and establishing concrete cause-effect relationships to substantiate root cause statements.
Providing sufficient details to guide a corrective action plan.
Contemplating ways in which a root cause can be avoided or repeated in the future (Singh, 2018.).
4.2 Interdepartmental Coordination
Interdepartmental coordination will greatly support Vodafone as a strategy for improving quality. If a company has several divisions or employees who are responsible for various tasks, it is essential to note how efficiently inter-departmental coordinationworks (Min, Zacharia and Smith, 2019). Information sharing between various business groups is a mechanism of interdepartmental coordination. Whatever the number of employees in a company, the coordination between employees ensures that the business is running smoothly. The benefits of this approach are:
Interdepartmental coordination has many advantages. One of the important reasons for this should be that the company contributes to increasing the organization's efficiency by ensuring that everybody is aligned.
It helps prevent misunderstanding, which is another advantage of good interdepartmental contact. By keeping coworkers up to date on key achievements, programmes and other material, the company will avoid making errors that could cost time and money.
Building confidence and comradeship between departments and employees is another major advantage of cross-departmental contact (Swami and Shankar, 2018).
4.3 Decision Support System (DSS)
Apart from that, a decision support mechanism is another approach that can be applied. The term Decision Support System (DSS) is commonly used, although inconsistently, but it refers to any "system" that offers useful information to aid in the decision-making (DM) process. This structures are highly valued in highly diverse contexts with differing degrees of order in problems or projects, with the majority being unorganised or semi-organized (Radanlievet al., 2019). Manufacturers today need systems that enable them to respond and adapt to a rapidly evolving market climate. Since it is transaction-related, a business's internal data management infrastructure may only include rudimentary help. As a result, DSS merge human capabilities with computing capabilities to provide effective data management, reporting, analytics, modelling, and planning.
4.4 Failure Moe and Effects Analysis
Finally, Vodafone can adopt a failure mode analysis approach to improve its efficiency and mitigate problems. Numerous high-profile product recalls have occurred as a result of defective goods and/or systems. These failures are discussed in public forums, where distributors, service companies, and retailers are portrayed as incapable of delivering a safe product. FMEA, or Failure Mode and Effects Analysis, is a technique that enables companies to predict failure at the design stage by defining all potential failure modes in a design or manufacturing environment (Liuet al., 2018). The majority of managers agreed that while constructive risk reduction efforts in the supply chain are uncommon, they are essential for mitigating disruptions. There was a widespread belief that by using an FMEA-based risk management tool for SCM, unexpected issues that could have harmed the effectiveness of SCM activities could be avoided.
The majority of managers desire resources and processes for FMEA implementation in a supply chain context. They also want to know the key success factors for the implementation process; managers expressed concern about anomalies in the severity, occurrence, and detection rankings, as well as inaccuracies that could delay effective FMEA implementation in a supply chain. Managers desire guidance to assist consumers in resolving these issues in FMEA systems, so they can implement and adapt their FMEA method into a supply chain context (Jiang, Zhang and Deng, 2019). For instance, furniture maker Steelcase guides managers by stressing that supply chain FMEA cannot be regarded solely as an engineering exercise and by ensuring that the terminology and metrics used in FMEA are influenced by key stakeholders.
Supply chain risks can be handled similarly to product and process defects, and our analysis revealed many industry examples demonstrating how FMEA can play a significant role in the process of risk management through supplier evaluation and selection.
5. Conclusion
The discussion presented in the above sections of this report evinces that albeit Vodafone has achievedmuch in the global telecommunication market with its seamless services and well organized operations, there are certain issues which the company still needs to fix. As mentioned in the Quality letter assessment, the main problem which affects the experience of a significant section of Vodafone's customers is its supply chain. The problems associated with this area have been identified and discussed in detail and it has been found from the analysis that in case Vodafone does not address these as soon as possible, chances are that a bigger number of customers would come up with similar complaints, since the issue is quite simple. Being such a fundamental factor, the problems of supply chain of the company, and its communication gap with the customer service department should be taken care of. The final section of this report provides much information about certainstrategies which should be able to efficiently solve these challenges and further enhance the experience of Vodafone's customers. Therefore, it can be concluded that Vodafone has got all the resources needed to tackle the mentioned challenges, and if it implements the recommended strategies, it will be able to mitigate every issue associated with its supply chain.
References
Ershadi, M.J., Aiasi, R. and Kazemi, S., 2018. Root cause analysis in quality problem solving of research information systems: a case study. International Journal of Productivity and Quality Management, 24(2), pp.284-299.
Jiang, W., Zhang, Z. and Deng, X., 2019. A novel failure mode and effects analysis method based on fuzzy evidential reasoning rules. IEEE Access, 7, pp.113605-113615.
Kellogg, K.M., Hettinger, Z., Shah, M., Wears, R.L., Sellers, C.R., Squires, M. and Fairbanks, R.J., 2017. Our current approach to root cause analysis: is it contributing to our failure to improve patient safety?. BMJ quality & safety, 26(5), pp.381-387.
Kerr, W.R. and Moloney, E., 2018. Vodafone: Managing advanced technologies and artificial intelligence. Harvard business school.
Liu, H.C., Hu, Y.P., Wang, J.J. and Sun, M., 2018. Failure mode and effects analysis using two-dimensional uncertain linguistic variables and alternative queuing method. IEEE Transactions on Reliability, 68(2), pp.554-565.
Min, S., Zacharia, Z.G. and Smith, C.D., 2019. Defining supply chain management: in the past, present, and future. Journal of Business Logistics, 40(1), pp.44-55.
Pangarkar, S.C., Green Human Resource Management-Development of Sustainable relations between Humans and Nature in the corporate setups.
Patterson, J.L., Goodwin, K.N. and McGarry, J.L., 2018. Understanding and Mitigating Supply Chain Fraud. Supply chain management assignment Journal of Marketing Development & Competitiveness, 12(1).
Radanliev, P., De Roure, D.C., Nurse, J.R., Burnap, P., Anthi, E., Ani, U., Maddox, L., Santos, O. and Montalvo, R.M., 2019. Cyber risk from IoT technologies in the supply chain–discussion on supply chains decision support system for the digital economy. no. March.
Robertson, S., 2021. The Importance of Customer Service and Logistics Management in the Logistics Industry. [online] Asiana USA. Available at: [Accessed 23 April 2021].
Singh, K., 2018. Lifting the lid on root cause analysis: A document analysis. Safety science, 107, pp.109-118.
Supply Chain Game Changer™. 2021. 3 Challenges Facing Supply Chain in the Next 5 Years! - Supply Chain Game Changer™. [online] Available at: [Accessed 23 April 2021].
Swami, S. and Shankar, R., 2018. Inter departmental Dyadic Coordination with Reference to Human Resource and Operations Management Current Status and Strategic Approaches.
Vodafone Group, 2021. About. [online] Available at: [Accessed 23 April 2021].
Vodafone Group, 2021. Our supply chain. [online] Available at: [Accessed 23 April 2021].
Wang, M., 2018. Impacts of supply chain uncertainty and risk on the logistics performance. Asia Pacific Journal of Marketing and Logistics.
Wong, H.M., Amalathas, S.S. and Zitkova, T., 2019. A prescriptive logic model for software application root cause analysis. European Journal of Electrical Engineering and Computer Science, 3(5).